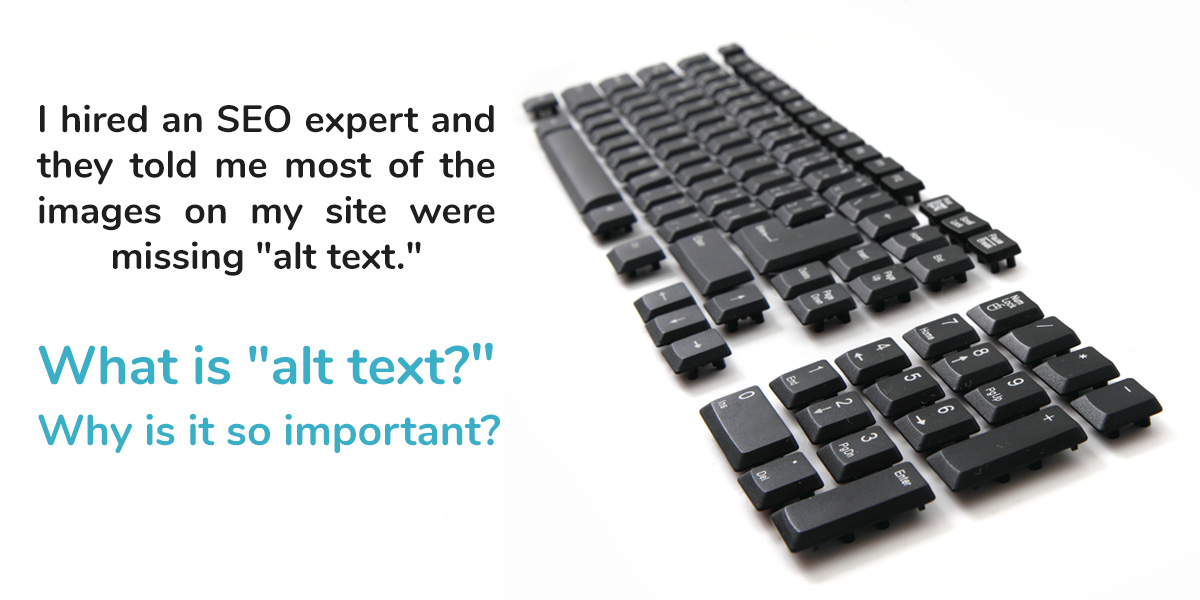 Today's client question:
I hired an SEO expert to get my business to the top of Google, and they told me most of the images on my site were missing "alt text." Apparently this is a big problem, but I don't understand the explanation they're giving me. What is "alt text" and why is it so important? Where do I get it?
Alt text is something that nearly every image on the internet should have, but most don't. Alt text is a text description of what's in an image. Alt text can be a few words or several sentences long; whatever is necessary to convey an accurate description of what's in the image. Where does this text come from? Typically (and ideally) alt text is not automatically generated. Someone has to sit down and write it out.
At first blush, this sounds silly. If we're all looking at the same picture, why should you also have to spend time typing out a description? Let's explore that question.
On the web, a picture is not worth a thousand words.
"Alt" is short for "alternative," and that's precisely what alt text is: The alternative used in place of the image if for some reason that image can't be loaded or seen.
This was a common problem in the early days of the internet, when download speeds were mind-numbingly slow and people were apt to turn off image downloads in their browsers to speed things up. Today, some people still choose to disable image display in their smartphone browsers in order to preserve their data plans.
But there's a much more common modern scenario that makes alt text absolutely crucial: visitors to your site who can't see. This includes both people with visual disabilities, who navigate the web using screen reader technology, and the web-crawling search engine robots who are in charge of scoring your website and controlling your search rank.
If you've placed an image on a page, presumably it's because that image adds to the page in some way, whether it's a helpful diagram central to the page's thesis, an eye-catching way to make navigational options obvious, or just setting a mood. How are SEO bots and the vision-impaired to know whether they are missing key information about your page if you don't tell them what's in the images you chose to put on it? With alt text, every visitor to your site can get the full picture.
On the human side, describing images through alt text is a simple but powerful way to improve the lives of those with disabilities. On the business side, it can raise your company reputation both with humans and the robots who decide where in the search rankings your company pages will be displayed.
Now that we know what alt text is and why it's needed, let's look at some examples.
What Does Good Alt Text Look Like?
The best alt text is text that accurately describes the image. Keep it as brief as possible, but include all relevant details. Typically, alt text is 3-10 words long, but if you need it you can even fit several sentences. Punctuation is allowed. If there are words embedded in the image, you must include those words in the alt text.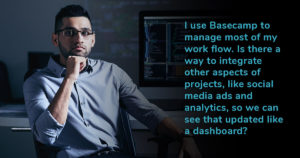 Alt text description: A young man of Indian descent sits in front of his computer. He is turned to look directly at the camera, his chin on his hand. Text reads: I use Basecamp to manage most of my workflow. Is there a way to integrate other aspects of projects, like social media ads and analytics, so we can see that updated like a dashboard?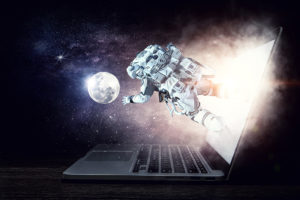 Alt text description: A laptop in the dark, with a nebula coming out of the screen. An astronaut floats in the starry void, reaching out toward a moon in the distance.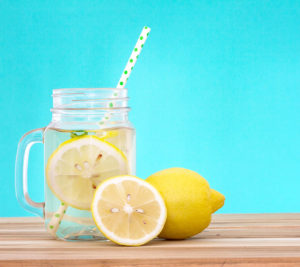 Alt text description: Lemonade served in a mason jar on a bright blue background, with sliced lemons surrounding it.
Should I Put Keywords in My Alt Text?
If you can use one of your chosen SEO keywords in an image's alt text while still achieving a natural-sounding, accurate description of what's in that image, then yes, that's a great idea! But be cautious to avoid "keyword stuffing" in alt text just as you would be cautious of it elsewhere, as shoe-horning keywords into sentences where they don't make sense can have a negative impact on your SEO.
Even if you can't find a way to naturally fit a keyword into your description of the image, you should still always take the time to write alt text anyway. Google often uses its tremendous power to direct web traffic to incentivize website owners to engage in best practice and help to create a better internet for all. If you are providing relevant alt text for all of your images and engaging in other practices that make the web easier to understand and navigate for the vision impaired, you will often get SEO bonus points that can give you an edge of your competition in search rankings — even if that alt text doesn't contain SEO keywords.
Are There Exceptions?
Typically, images that are used only for decoration, such as backgrounds or icons on buttons that are already accurately labeled, will not be given alt text. Instead, they should be marked as "for decoration only" using the tag aria-hidden="true" so that screen readers and SEO bots alike know to skip over them.
Any qualified web developer can help you with both aria-hidden and inserting the alt text that you've written.
Good luck improving your website and boosting those SEO rankings!