Washington County Kid's Website and Super Power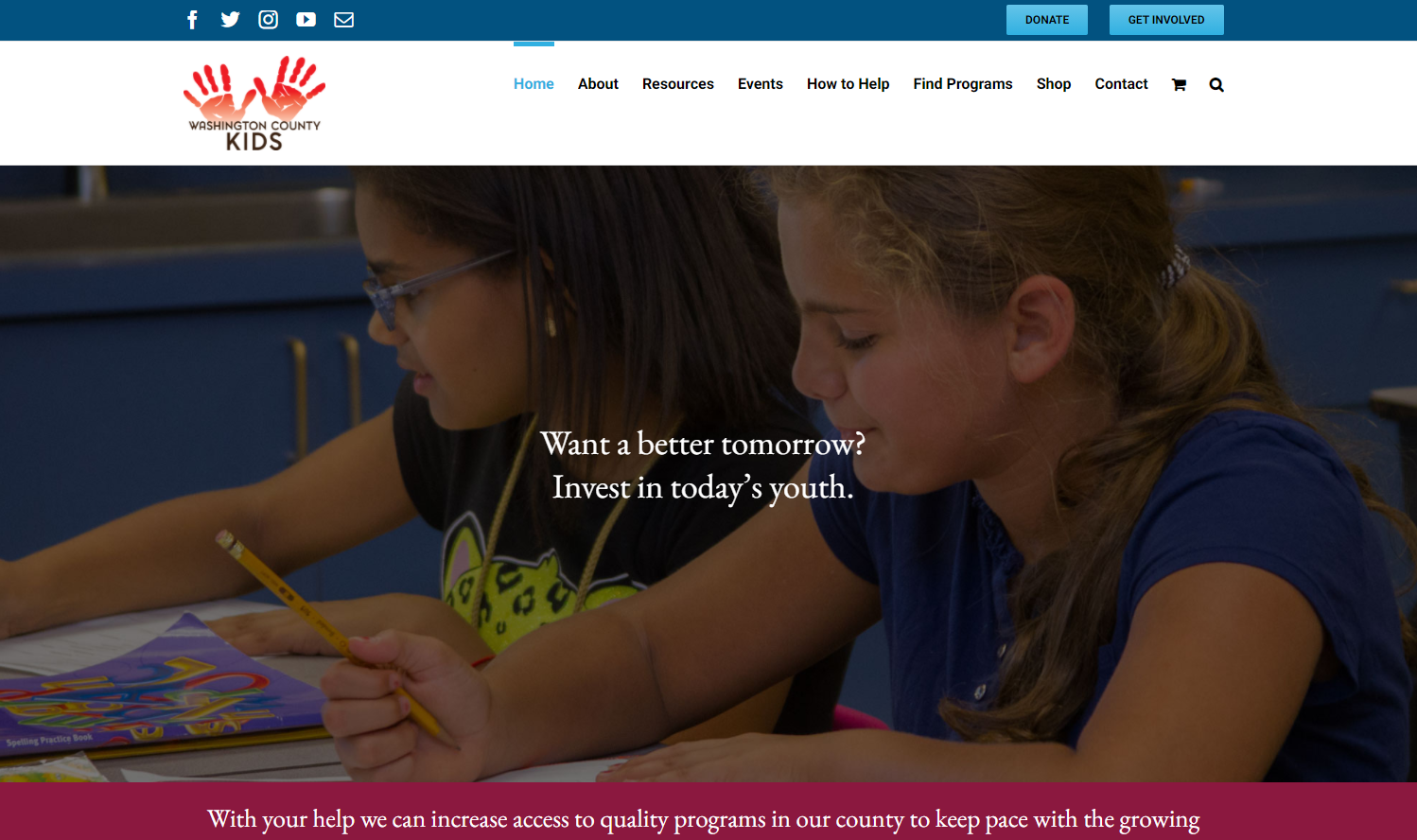 Washington County Kids (WCK) works to increase access to Out of School Time (OST) programs for Washington County children. OST programs have been proven to make a major difference in helping kids succeed in the long and short term.
WCK works with program providers, school districts, parents, civic groups, and business and elected leaders to expand awareness of the need for and value of OST programs, improve communication, and serve as a centralized, county-wide hub and resource for providers and our community.
Design Features
Photography-forward design.
Helped incorporate and update existing design elements into a coherent brand.
E-commerce: Merchandise shop.
Seamlessly integrates data from spreadsheets into website in near real-time, allowing volunteers to continue to curate their informational archives in the way they are used to, while providing the benefits of their labors to the public in a searchable and visually rich way.
Newsletters sent through MailChimp automatically post themselves to the site's blog.
Super Power
As a busy non-profit, Washington County Kids has to track – and present – a large quantity of data for a number of different audiences. Just a few examples:
Out of School Time programs for different age groups, needing to be found by parents.
Informational and financial resources, needing to be found by educators and program providers.
Research and supporting evidence, that needed to be easily accessible to potential donors and local politicians.
At the time our project began, most of this data was being tracked by volunteers in Google Sheets, but that careful curating of information had limited reach — much of it didn't even appear on the  website at all!
To prevent a situation in which all of the volunteers would need to be trained in yet another system, and then double-enter everything both into the spreadsheet and into the website, we utilized an API connection that scanned through the existing spreadsheet, and translated their entries into website updates. All WCK volunteers need to do is keep their spreadsheets of programs and resources up to date, and the website not only updates its information, but formats and styles the information in multiple areas of the site, intelligently displaying information to the audience most likely to benefit from it.